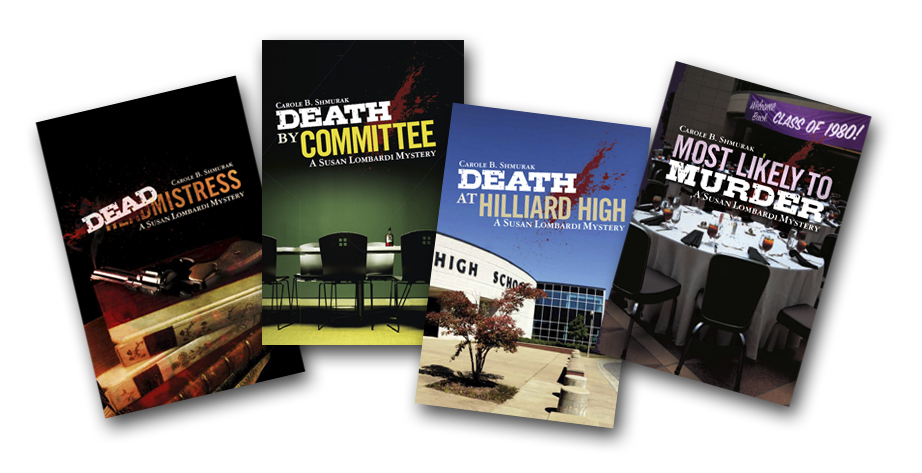 "Carole Shmurak has created a lovable and memorable character in Susan Lombardi."
— Ceil Carey, The Cozy Library.
"A big part of why I really like Carole Shmurak's Susan Lombardi mysteries is how real they feel. They're filled with unique but highly believable real world people."
– Kim Malo, MyShelf.com.
"This is a great cozy series that I highly recommend."
– Kim Reis, Mystery Morgue.
About the Series
Carole's mysteries feature Dr. Susan Lombardi, a happily married, 40ish professor of education at Metropolitan State University, in Albion, Connecticut. The Susan Lombardi novels are lighthearted, traditional mysteries with murders in close-knit communities. Susan is part of a long tradition of academic sleuths.
Deadmistress was first published in 2004, but is out in a new 2011 edition from Park Court Press. Death by Committee, (2006) and Death at Hilliard High, (2009) are also available in new 2011 editions. Most Likely To Murder was published in 2012.
All of the Susan Lombardi mysteries are available from Amazon.com, as paperbacks or Kindle e-books. In 2014, Carole's mysteries were also released as audiobooks, available from Amazon, Audible and iTunes.  The narrator for all of the books is the versatile actress Barbara Benjamin-Creel, the voice of Susan Lombardi (and all the other characters!).
Read More