Most Likely to Murder

What high school class has a thirty-two year reunion? A class whose president has left the country, whose vice president is dead, and whose treasurer is in the Witness Protection program — in fact, Professor Susan Lombardi's class from Count Basie High School. Susan has misgivings about revisiting her hometown: she's leery of seeing her former high school sweetheart, now a high tech millionaire, and reluctant to get involved in a battle between her squabbling brothers. But when she does go, one of her "old gang" ends up dead, and Susan and her friends team up to find the classmate Most Likely to Murder.
Most Likely to Murder was awarded an Honorable Mention in the New England Book Festival.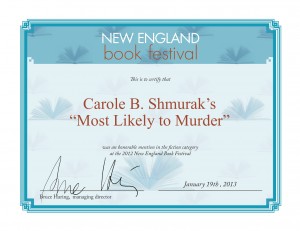 Buy the Book
Buy at CreateSpace with $1.00 discount: enter code  J2EGFK6T
Buy the e-Book
Buy the Audiobook